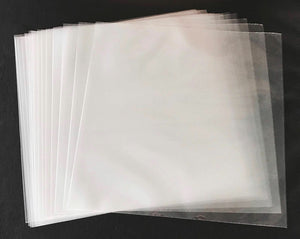 12 INCH LP OUTER SLEEVES- CLEAR POLY SLEEVE, pack of 50
Regular price $12.00 Sale
Safeguard Your Vinyl LP Jackets from wear and debris with Archival-Quality Outer Sleeves:

Protective Sleeves Help Keep Album Covers in Pristine Condition

Protect your record covers from damage, hair, and dust and keep your vinyl LP jackets in tip-top shape with these Record Outer Sleeves .

Featuring a thickness that affords stellar archival safekeeping as well as easy access on shelves or racks, these polyethylene sleeves guard against scuffs, wear, denting, dirt, and all sorts of debris .

They'll help keep your record jackets - and the precious artwork and graphics that make vinyl far superior to any download or CD - in mint condition.

Plus, they're sized just large enough to provide a close fit while allowing enough room to accommodate gatefold jackets. An absolute necessity for any record lover and a no-brainer investment.